As some of you may know, our beloved Rory had to be put down on January 6th.  It was a rough way to start the new year.  Rory had been suffering from spondylosis  (a debilitating arthiritis) in his lower spine which led to the loss of use of his hind legs.   After 3 weeks he could bear no more and had essentially given up.  We called a service that specialized in home euthanasia and a vet was able to come over within an hour of our phoning them.  He was warm, comfortable and surrounded by those who loved him.  It was as pleasant and peaceful as such an end could be.    Kristen and I take solace in knowing how much we spoiled him, that no expense was spared in his care, and that we gave him a dignified exit to the inevitable.    We are heart-broken.   Rory was such a special being.  Sure he was a big bunny, but it was his personality and his ability to emote that filled our home.  Everyone who met Rory fell in love with him.  He was my best friend, and his absence is a big void – as if  a person is missing.
But life has to go on. Hunny Bunny is still here. The Little Widow is now without her mate.  We adopted them together – and they were given up by a previous owner.  Beyond the 5 years we had with Rory and Hunny – we don't know how long they were together.  If only our animals could speak.  The difference is visible. She's more anxious about us all being in the same room together in the evenings after work.  She's never been this happy to see us come home from being out.   I give her extra cuddle time.  I know she must be sadder than Kristen and I may be.      More on that in a bit… Let's go back to the past before we return to the present.
I just wanted to show whoever is reading this who my friend Rory was:
Rory  means "Red King" in Irish and Scottish Gaelic.
Don't believe Gilmore Girls – it has been a male name  for thousands of years!
Rabbits are good at climbing.
Rory was an expert in the field and could find a way to get to places he wasn't supposed to. Especially if there were fruits or other treats up there!
He regularly climbed onto the top of the sofa:
Here I turned on a computer and got up to get a drink.  I come back a minute or so later to see this:
And some more from that set:
 He jumped up on the coffee table almost every day.
Rory had no fear of the vacuum cleaner.
To him it was a daily nuisance.  He used to attack the vacuum cleaner but eventually quit choosing to relax and not moving out of the way.  We had to clean around him!
 Some days Rory didn't want me to go to work.
He has tried to follow me to work on several occasions!
Rory did not like to be picked up.
Rory suffered from GI Stasis which is an issue with some rabbits.  I was massaging his tummy here to get his digestive system back on track.  Even though he looks cute as usual he was in reality not very happy with me. Still we had to get these photos!
Rory wanted ice cream.
Rory liked music!
He liked the blues and instrumental surf.  He liked the voices of Johnny Cash, and Frank Sinatra.  He liked jazz guitar.   He liked some heavier stuff too, like Jimi Hendrix, Black Sabbath,  Soundgarden and Queens of the Stone Age.  He would sit near the speaker the music was coming from and gently rock back and forth.  He also seemed to enjoy listening to me play guitar for him.   Strangely Rory also liked the sound of President Obama's voice.   On the occasion that we  watched the president give a major speech both of our bunnies would stop eating, sit down and face the tv – and stay that way until the speech was over!
Rabbits love having their people spend time with them.   Especially on the floor or sitting with them.
Below:  I fell asleep near Hunny & Rory.  Kristen says he tried to wake me up and then looked back at her. After a couple of minutes he hopped around me and flopped over into his bed and joined me for nap-time. I think Hunny ran into the box…
  Rory groomed me. Almost every day.  It tickled.  Rabbits groom their loved ones.  He honored me with his sweetness.
Most of all Rory loved Hunny Bunny.
In our first few days with them, Hunny would occasionally get into trouble.  Rory would hop up and get between me and Hunny.  A brave act for a rabbit that didn't really know what this human was going to do to his mate when seemingly angry.  Soon after Rory would try to stop her if he saw her chewing on something she wasn't supposed to.   Everyday he would stand guard in front of her as she groomed herself in the early evening.  Apparently it was "guarding time".   They would groom each other and cuddle several times every day.     Sometimes we humans tend to humanize our animals, but  it was obvious to see how much they cared for each other.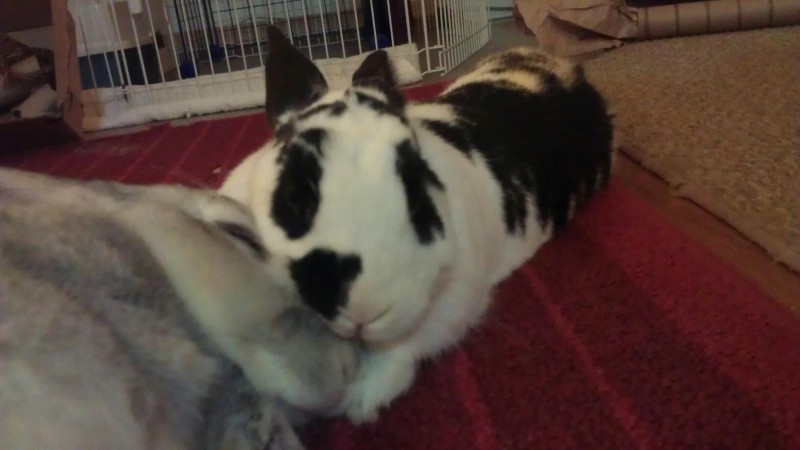 The present and the near future…
Tomorrow a new bunny is joining our warren. To keep Hunny company and become the newest member of our family.   If all goes well, Hunny can live out her days with another bunny for companionship.  We are ready for a new spark of life in our home.