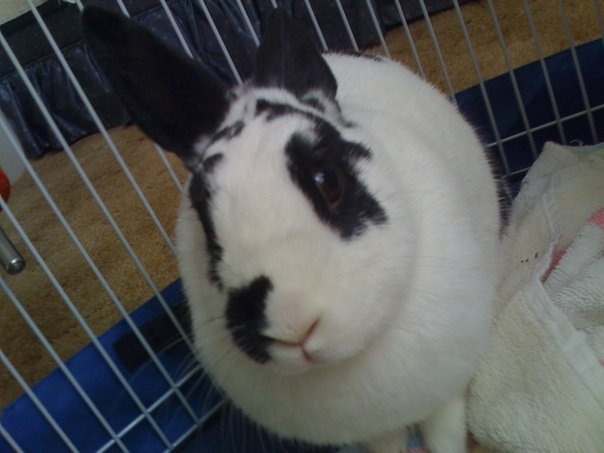 Eight years ago today Kristen and I went to a local animal shelter  with the intent of adopting two rabbits.   We were initially interested in two bunnies from that were siblings – brothers in fact.  It turned out they were very popular on the shelter's website and many people had made appointments to meet them.   Next to their cage were another bonded pair: Hunny and Rory.     The shelter thought Hunny was roughly five and Rory was about three years old.   Hunny Bunny seemed pretty uninterested in us and a little sad being incarcerated.  Her records also showed that she may have been given up twice before.  Rory kept bopping me through the cage – I already knew I liked him.
A few hours later were home with our new bunnies and set up a little home for them.  All the photos above are from that first day.  Eventually we would end up moving twice until ending up in our current flat.   Rabbit Kastle got bigger, the bunnies got older but happier.  Sadly 3 years ago we had to put our beloved Rory down.   Hunny Bunny is now thirteen years old but is not alone with the much younger Snow Bunny and Ezio Auditore da San Francisco to keep her company.
Here's Hunny Bunny looking pretty today:
3 conspirators: Snow Bunny, Hunny Bunny and Ezio Auditore da San Francisco.
Happy Anniversary Hunny Bunny and Rabbit Kastle!